Chart of the Best Hotels in Atlantic City for Every Occasion
The following list shows you more details on the subject. Shortly put, since Atlantic City legalised gambling in 1977, it transformed into one of the premium casino resort destinations in the US. Nowadays, gamblers can also enjoy the splendour and exquisiteness of huge luxurious suites with marble bathrooms and striking panoramic views over the ocean, as well as relax in spa centres or alongside rooftop swimming pools. Check out the following table where we used several key factors to compare the top resorts and Atlantic City casino hotels most suitable for a specific occasion.
| Atlantic City Hotels | Rooms & Suites | Location | Design | Comfort | Amenities | Gratest Highlights |
| --- | --- | --- | --- | --- | --- | --- |
| 1. Borgata Hotel Casino & Spa | 1,997 + 800 | Green areas; Overlooking the marina | Tuscany; Modernism | Ultra-Luxury | 5 Pools, 5 Shopping Centres, 2 Spas, Casino, Restaurants, Bars | Borgata Casino (161,000 sq. ft.) |
| 2. Harrah's Resort | 2,587 | Waterfront; Overlooking the bay and marina | Contemporary Style Coastal; Modernism | Ultra-Luxury | 8 Restaurants, 6 Bars/Lounges/Nightclubs, Casino, Spa, Conference Centre | Glass Dome Poolside and Nightclub |
| 3. Best Western AC Hotel | 76 | Downtown | Conventional | Medium | Business Centre, Jacuzzi Rooms, Fitness Centre | Nearby Many AC Attractions |
| 4. Ocean Casino Resort | 1,399 | Boardwalk | Dramatic 'High-Tech' Modernism | Luxury | 13 Restaurants, 2 Nightclubs, 2 Live Entertainment Venues, Multiple Pools, Rooftop Garden, Spa, Shops | 2nd Tallest Casino Tower in the US |
| 5. The Claridge – A Radisson Hotel | 420 | Boardwalk; Brighton Park | Manhattanesque; Mid-30 Art Deco; Victorian | Vintage Luxury | 4 Restaurants, Fitness, Entertainment and Conference Centres, Pool, Art Gallery, Ballroom | The VUE Rooftop Bar & Lounge |
| 6. FantaSea Resorts – Flagship | 220 | Boardwalk; Remote | Coastal Chic; Modernism | Luxury | Restaurant, Business Centre, Rooftop Pool, Fun Zone, Fitness | Panoramic Views |
| 7. Courtyard by Marriott Atlantic City | 206 | Downtown | Contemporary | Business; Medium | Bistro, Bar, Lounge, Restaurant, Café, Fitness, Business Centre | Centered Location |
When you have the list and you know the details, let's see what do these 7 Atlantic City hotels excel in! Keep also in mind that the description of each resort features a small overview section with its main pros and setbacks. Without further delay, Borgata takes the first place based on two major factors – the giant gaming space and the shire size of its hotel area.
Borgata – the Greatest of the Atlantic City Casino Hotels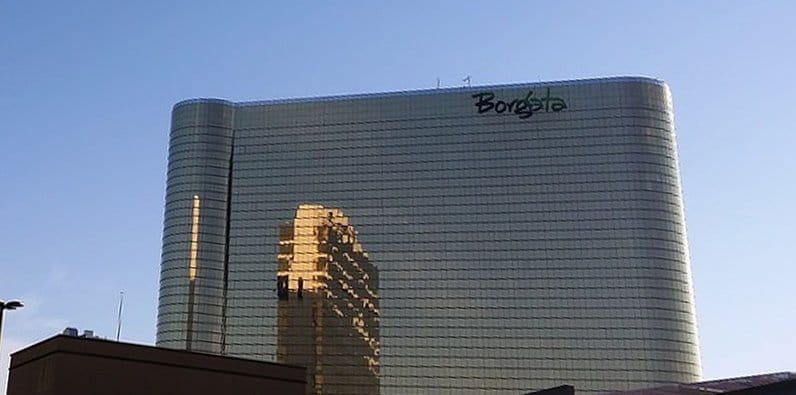 Of course, if you search for casino hotels – Atlantic City is considered as one of the gambling capitals in the world. Therefore, we couldn't pick any other than Borgata as a top choice among the greatest Atlantic City casino hotels. It features two gigantic towers with a total of a little over 2,700 rooms, making it the largest hotel in Atlantic City and all over the state. It certainly is a breath-taking sight to witness from the outside but if you book a room and stay for a while, then the opportunities are even more. The ultra-luxury accommodations range from standard rooms to Fiore and Opus suites with floor-to-ceiling windows, lavish decors and magnificent panoramic views. Borgata Hotel Casino & Spa also offers to its guests a wide variety of amenities and options for entertainment. 5 indoor and outdoor swimming pools in The Water Club (the secondary tower), retail areas, a huge spa centre on two floors, plenty of restaurants, bars and other eateries, are only a few examples.
Why Choose Borgata?
| Biggest Pros | Setbacks |
| --- | --- |
| Huge Casino | High Rates |
| Huge Spa Centre | – |
| Numerous Entertainments | – |
What really makes Borgata one of the most renowned Atlantic City casino hotels is, without a doubt, the 161,000 sq. ft. casino which is the largest one on the island. Players can take advantage of over 4,000 slot machines and nearly 200 table games, and these amazing gambling opportunities are complemented by race and sports betting too. All these advantages transform Borgata into one of the most appealing Atlantic City casino hotels.
It is also a tempting place for the poker players because they can enjoy world-class poker tournaments, as well as numerous promotions and participate in special membership clubs. Overall, Borgata Hotel Casino & Spa should be your top choice if you want to soak up the real luxury atmosphere in Atlantic City and especially if you are a serious gambler! Let's continue this post with another amazing suggestion.
Harrah's – One of the Best Resorts in Atlantic City
Why Choose Harrah's Resort?
| Biggest Pros | Setbacks |
| --- | --- |
| Numerous Resort Amenities | Paid Parking and Pool |
| Huge Casino | – |
| Remote Location | – |
This is another iconic highlight on the skyline of Atlantic City. Harrah's Hotel and Casino is located on the north-eastern edge of the island and right next to the inlet channel. However, this remote location from the hustle and bustle of the downtown doesn't mean that you will find tranquillity and silence within Harrah's either. This huge resort complex offers a bunch of options for dining and amusements. A giant glass dome is a place to enjoy a walk among green palm trees and alleys while the pool often transforms into a scene for night-time music events and festivals.
You may only find serenity and tranquillity at your room. The choice is also tremendous – there are over 2,500 rooms and suites in Harrah's! This huge variety of accommodations and the exceptional number of amenities in the same complex transform Harrah's into one of the top resorts in Atlantic City. Of course, in Harrah's Resort is also located another one of the largest casino floors on the island and, actually, all over the world. For instance, most online casinos in the UK offer hundreds and rarely over a thousand of slot games but here at Harrah's, you can take a pick of over 3,800 slot machines! The other resort amenities include spa and fitness centres, the famous Harrah's Waterfront Conference Centre, the Waterfront Buffet and the Waterfront Shops among others.
Best Western Hotel – Top Location if You Are on a Budget
Why Choose Best Western?
| Biggest Pros | Setbacks |
| --- | --- |
| Cheap Hotel | Paid Parking |
| Excellent Location | No Panoramic View |
| Quiet Atmosphere | No In-Hotel Attractions |
If you plan a vacation on a budget and if you look for cheap hotels – Atlantic City also has something to offer. For instance, Best Western is one of these small and cheap hotels in Atlantic City that offer much more than you would probably expect. Firstly, Best Western Atlantic City Hotel is one of the best options if are on a budget and, meanwhile, you would like to get the maximum out of your vacation. There are a couple of main reasons for that and we will discuss them now.
The first is the central location right in the heart of Atlantic City and that the hotel offers all the comforts needed for your pleasant stay. There are a mere 80 rooms which means that the atmosphere is much quieter than the giant hotels on the Boardwalk. In the meantime, you are yet at a short walking distance from the beach, the Central Pier Arcade and all the shopping centres, eateries, bars and famous landmarks in Downtown Atlantic City.
With rooms as low as £50, Best Western is definitely an excellent choice among the cheap hotels in Atlantic City that offer plenty of comforts and top-rate amenities. Examples include flat-screen TVs, air conditioning, free Wi-Fi and breakfast, fitness and a clean conventional design to make you feel like you are in your own cosy apartment. Bear in mind that Best Western is a pretty low hotel and you won't get a breath-taking panoramic view from the balcony of your room even if you are on the last floor. On the other hand, Noyes Museum, Tanger Outlets Centre, Taj Mahal Casino, Boardwalk Hall and many other popular sights are located only a couple of streets distance from Best Western Hotel.
Ocean – The Pinnacle of the Atlantic City Boardwalk Hotels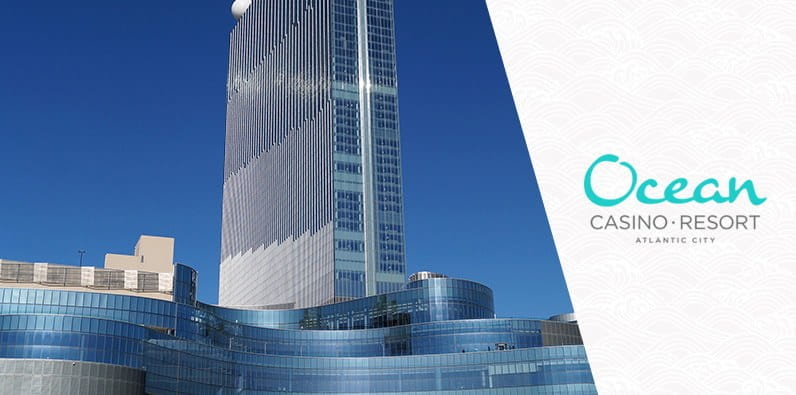 Many people say that the Boardwalk is the second-largest symbol of Atlantic City after its numerous hotel resorts and casinos, and they are not wrong. The Boardwalk is the long oceanside avenue where are located some of the biggest Atlantic City hotels, as well as the iconic Steel Pier, and many other amusement centres, eateries and more. Well, Ocean Casino Resort is located at the northernmost side of the Boardwalk that overlooks the ocean. This giant hotel has some of the most remarkable silhouettes on the skyline with the Atlantic City Boardwalk hotels. The dramatic 'high-tech' design of the complex features several levels with wavy patterns topped by the giant glass tower of the hotel. Guests can enjoy everything from a 'contemporary king' to 'studio' and 'one-bedroom' suites, while the panoramic views over the ocean and the coastline can be enjoyed basically from every room.
Why Choose Ocean Resort?
| Biggest Pros | Setbacks |
| --- | --- |
| Boardwalk Location | No Early Check-In |
| Huge Land-Based Casino | Paid Parking |
| Online Casino | – |
| Rooftop Garden | – |
The upscale modernism style is second-to-none while the refined luxury atmosphere can also be found everywhere from the huge casino to the numerous upscale restaurants, bars, pools or entertainment venues. Additionally, what really makes Ocean one of the top Atlantic City Boardwalk hotels is its amazing location at the edge of the island where is the start of the oceanfront part of the Boardwalk. You can basically get out of your room and start walking for a couple of hours on the Boardwalk with the stunning views of the ocean and the beach.
Ocean resort is also situated at a short walking distance to one of the most famous landmarks in Atlantic City – Absecon Lighthouse. If you choose to stay in a hotel on the Boardwalk, then you can take advantage of plenty of cool things to do in Atlantic City and yet, be at a short walking distance from the comfort of your room.
The Claridge – Excellent Boutique Hotel That Stands Out
Why Choose The Claridge?
| Biggest Pros | Setbacks |
| --- | --- |
| Botique Hotel | Noise, Hustle and Bustle |
| Rooftop Lounge | Paid Parking |
| Huge Conference Centre | – |
| Premium Location | – |
| Architecture | – |
History and London/Victorian architectural designs find each other in one of the top Atlantic City boutique hotels – The Claridge. It is also located on the Boardwalk and right next to Brighton Park, which gives you a perfect opportunity to get out of your room and relax in the green settings of the park or start a walking adventure on the world's longest boardwalk. Whatever you do, you can do it in style when you are in The Claridge. However, what really makes it stand out among all the Atlantic City boutique hotels is its unique architectural design and interior decors. The hotel dates back to 1930 while nowadays, the rooms offer a traditional style with king-sized beds, wooden and leather furniture, amazing ocean views, and the list goes on.
The Claridge is certainly one of the best Atlantic City boutique hotels and therefore, it is an amazing option for romantic vacations. The rooms have names like Vintage Double Oceanfront, Superior Double, Monaco King Suite and Honeymoon Suite. There are also plenty of attractions and amenities in the hotel such as 4 restaurants, the Grand Ballroom and a huge swimming pool among others. Well, the greatest highlight should certainly be the VUE rooftop bar and lounge at The Claridge where you can see just about everything in Atlantic City and from horizon to horizon because it's located on the 23rd floor.
Flagship Resort – The Top Choice when Traveling with Kids
Why Choose Flagship Resort?
| Biggest Pros | Setbacks |
| --- | --- |
| Vacation Owners Hotel | Paid Parking |
| Special Kids' Amusements | Paid Internet |
| Champions of Youth Program | – |
| Remote Boardwalk Location | – |
| Striking Panoramic Views | – |
| Reasonable Prices | – |
Don't get us wrong – every hotel in this list is a perfect choice when travelling with kids and adults alike. Yet, if you look for upscale hotels – Atlantic City offers a wide variety of opportunities, locations and attractions. There are even some pet-friendly resorts but Flagship Resort is a very special place when it comes down to the top Atlantic City family hotels. Its excellent location along the beginning of the Boardwalk means that it is remote from the bustling Downtown area, so you can experience a more laid-back and quieter vacation with your family. It is also located nearby a child's park with playgrounds and green open areas where your kids can go and play every time.
The vistas are magnificent as well. Indeed, Flagship Resort is known for its restaurant that offers some of the best panoramic views in Atlantic City. What really makes it perfect for families is that the accommodations are not booked like in a typical hotel, instead, they are owned for a certain period of time. Your room can transform into your own apartment for a week, two or more, so you and your kids can take advantage of all that Atlantic City has to offer. Owners also get a lot of privileges such as free parking and access to the business facilities in the hotel. Additionally, there are organised daily activities and games that are more than enough for real fun with the kids. That's what makes Flagship Resort one of the best Atlantic City family hotels. If this is not enough, keep in mind that some of the top entertainment venues for kids and adults alike are situated at a short walking distance from the hotel. Examples include Atlantic City Aquarium, the Historic Gardner's Basin, Absecon Lighthouse, and of course, the Boardwalk begins right in front of the hotel.
Courtyard by Marriott – the Downtown Atlantic City Hotel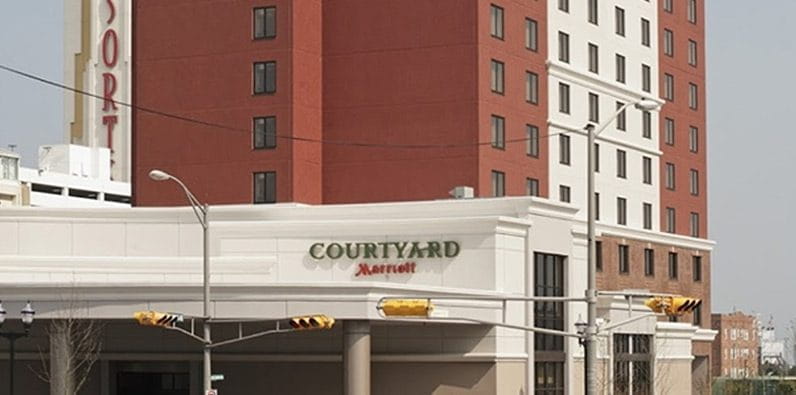 It wouldn't be a perfect Downtown hotel if it is not located at the same distance from both the Central Pier Arcade and the Steel Pier. Courtyard by Marriott is, and that's why we would like to recommend it as one of the best Downtown Atlantic City hotels! It doesn't have a casino but all the major gambling venues in Atlantic City are located within a dozen minutes' walk trip. The Boardwalk with its fine sandy beach is also next to Courtyard by Marriott, making it perfect for summertime escapes. The accommodations range from King and Double guestrooms to '1-bedroom 2-room suite' if you need more space. The amenities of the hotel are also amazing, including a restaurant, fitness centre and others.
Why Choose Courtyard by Marriott?
| Biggest Pros | Setbacks |
| --- | --- |
| Downtown Amenities | Not Many In-Hotel Attractions |
| Business Meetings | – |
| Team/Group Events | – |
With this in mind, you won't need too much at your disposal in the hotel because Courtyard by Marriott gives you the privilege of having all the Downtown amenities just across the road. It comes to pubs, bars, fine dining restaurants and other eateries, as well as stores and souvenir shops, liquor and beach bars, BBQ bars, and so on and so forth. A wide variety of iconic historical and cultural landmarks should also be on the top of your list. Yet, Courtyard by Marriott is one of the best Downtown Atlantic City hotels and you can easily visit the Korean War Memorial, Brighton Park, and both piers, in a single day.
Overall, these are only a few of the top resorts in Atlantic City! We tried to pick up locations suitable for a wide variety of occasions such as vacations with your family, Downtown and Boardwalk hotels, the greatest casino resorts for gamblers, and authentic Atlantic City boutique hotels. We hope you've enjoyed! So, during your next trip to this beautiful island on the East Coast of the US, make sure to come back to our list and choose your most favourite place to stay. In case you want more information, you can also read our page dedicated to the online gambling in New Jersey. We hope that you will enjoy it.