What is the Model of Pathological Gambling?
We will start off with a classic study by Bianco et al. (2001), which aimed to discover whether pathological gambling can be characterised as addiction or simply as a compulsion. There has been considerable debate about the appropriate conceptualization of pathological gambling and its exact place in psychiatry. In this particular study, the authors examined the existing research on the various areas of problem gambling in order to compose a particular model of the disorder. They found two dominant models of pathological gambling – as a nonpharmacologic addiction and as an obsessive-compulsive spectrum disorder. Most results lean towards the idea of gambling addiction as having similar characteristics to substance abuse, rather than OCD. A different model, those scientists came up with, was one that constitutes a heterogeneous disorder with some subtypes resembling obsessive-compulsive disorder, and other subtypes being closer to substance abuse disorders. So, in other words, what we have learned from this study is that gambling disorder should not be underestimated, and it is as serious a condition as all other types of addiction known.
Source: "Pathological gambling: addiction or compulsion?" by Bianco et al. (2001)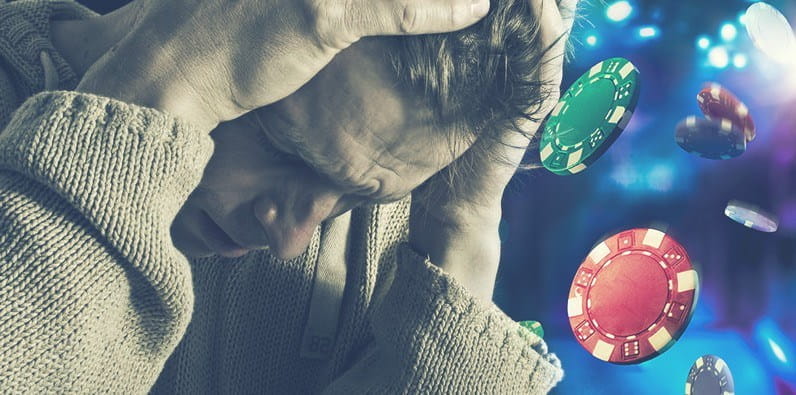 Is Gambling Addiction Similar to Alcohol Addiction?
A study conducted by Peele in 2000 aimed to discover whether gambling addiction is very much like drug and alcohol addiction in its core mechanism. We will very briefly review this particular study in order to develop a broader understanding of the problem. The model, which has been used to portray alcoholism and drug addiction is called the disease model and it predominated in the U.S and North America is also widely accepted as an explanation of problem gambling. However, this model fails to explain the most fundamental aspects of compulsive drinking and drug taking, so it can hardly do better with gambling. For example, people regularly outgrow addictions — often without ever labelling themselves as addicts. Indeed, gambling provides a vivid and comprehensible example of an experiential model of addiction. Elements of an addiction model that gambling helps to elucidate are the cycle of excitement and escape followed by loss and depression, reliance on magical thinking, failure to value or practice functional problem solving and manipulative orientation towards others.
Source: "Is Gambling an Addiction Like Drug and Alcohol Addiction?: Developing Realistic and Useful Conceptions of Compulsive Gambling" by Peele (2000)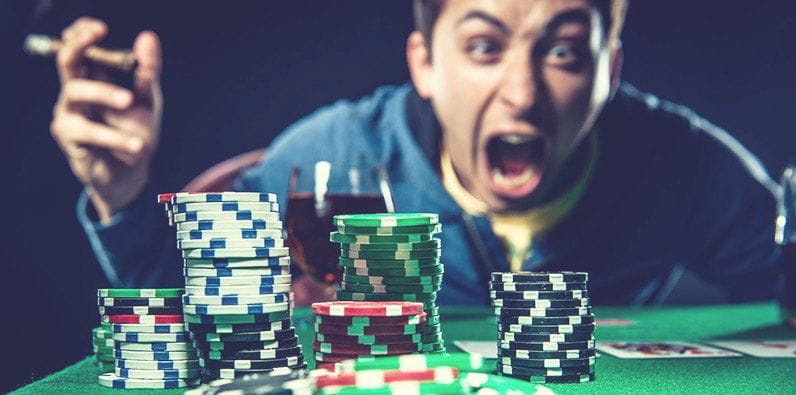 What Factors Are Associated with Gambling Addiction?
We have already established that gambling addiction is a serious condition, which has symptoms overlapping with OCD and is therefore classified as a mental disorder. Let us now look at some of the personality features, which are somehow related to gambling addiction. A group of scientists used the Millon Multiaxial Clinical Inventory (MMCI) and a specifically designed questionnaire of demographic info to assess what personality traits are related to problem gambling. They administered the questionnaire and inventory to 35 male compulsive gamblers, all members of Gamblers Anonymous. What they found was that in comparison with the normative sample, the gamblers scored significantly higher on Gregarious, Narcissistic, Aggressive, and Drug Abuse Scales and significantly lower on the Conforming and Neurotic Depression Scales. This means that people, which are higher on the narcissism and aggressiveness scales are more prone to developing gambling addiction than those who are not. Furthermore, the common wisdom that one addiction leads to another seems correct in this case – the more prone you are to drug abuse, the more likely you are to develop an addiction to gambling. So, have a moment to reflect on this information and consider whether you have any of the signs of gambling addiction potentiality.
Source: "Personality and Other Factors Associated with the Gambling Addiction" by Dell et al. (2009)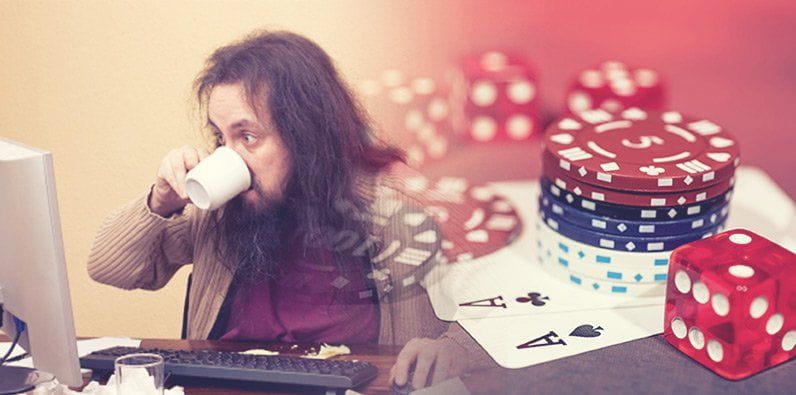 What About Internet Gambling?
A more recent paper included the notion of online gambling in the scientific world. Online gambling has become a revelation in the casino world over the past 15 years and is becoming more and more beloved but is also changing the way gamblers engage with this activity. Due to the high level of accessibility, immersive interface and ease at which money can be spent, concerns have been expressed that Internet gambling may increase rates of disordered gambling, which is quite a negative thing. This paper presents research to inform a greater understanding of adult participation in Internet gambling, features of this interface that may impact problem severity, the relationship between Internet gambling and related problems, as well as considering the role of the wider spectrum of gambling behaviour and relevant individual factors that moderate this relationship. Unfortunately, online gambling is far more dangerous than traditional gambling when it comes to addiction. It is really easy to be done – simply open your phone or laptop and you can immediately start playing. There are no working hours as well, so you can play whenever you want. This is troubling for addicts as it often leads to their problem gambling spiralling out of control. This is the reason why many organizations have been established, which aim to help such players in their road to healthy mentality.
Source: "Online Gambling Addiction: the Relationship Between Internet Gambling and Disordered Gambling" by Gainsbury (2015)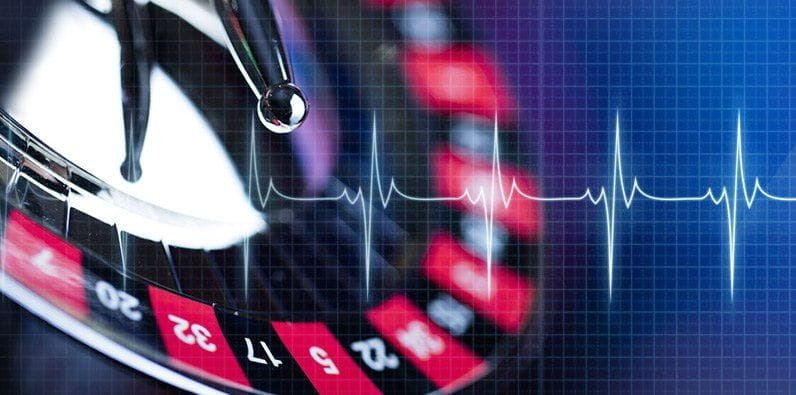 Gambling Causes Increased Heart Rate
This particular study done in the year 2000, discovered a rather interesting finding of gambling and its effects on players. Although the effects of gambling on cardiovascular parameters have been documented, no data exists describing the effect of gambling on stress hormone secretion. This study investigated the effect of gambling on heart rate and salivary cortisol in a casino environment. Ten male gamblers participated in both an experimental and control session. In the experimental session, gamblers played a game of blackjack using their own money. Gamblers played cards in the same setting during the control condition; however, the game was played for an accumulation of points rather than money. Heart rate and endocrine parameters were recorded at baseline, 30 min, and 60 min following the commencement of each session, and again at the completion of the game. What they discovered, was that heart rate increased significantly from baseline to 30 min in the experimental session and remained elevated for the remainder of the recording period. Salivary cortisol was raised at 30 min and further elevated at 60 min during gambling, then returned to control levels following completion of the game. These data indicate that gambling in a "real life" situation produces increases in salivary cortisol levels that accompany the increased cardiovascular activity. Such effects may contribute to the development of gambling addiction.
Source: "Casino Gambling Increases Heart Rate and Salivary Cortisol in Regular Gamblers" by Meyer et al. (2000)
So, our final advice to all gamblers is, be careful and do not hesitate to seek help at organisations, such as GamCare, BeGambleAware and GamblersAnonymous, if you feel like you need help! Overcoming gambling addiction is easy once you admit to having the problem and seek help!