Player's Suite Blackjack Review – An IGT Table Game Doing It Right
Despite the clear affinity with slots, iGaming developers IGT are no strangers to the makings of a good table game. The token blackjack title in the company's portfolio, Player's Suite Blackjack is indicative of IGT's natural ability to create a lot with a little. Even so, the game leaves an aftertaste of a quality product handled with due regard. Prepare for a pure Blackjack experience with no excess glitz and glamour in it. Impromptu action, yet an easy to control gameplay, and plenty of settings – Player's Suite Blackjack covers all the bases. A shape-shifter of time, blackjack has finally taken the form of an unspoilt game variant that's easy to fall in love with. Why? Let us begin with a simple overview of the features.
You ought to learn how to handle the chips before jumping in at the deep end, so here's the plan. First, we'll give you the game rules word for word and let that sink as we explain a basic strategy that will get you started on the right foot. With the demo version we've featured onsite, you'll be able to test out everything and make final preparations for real-money play. How does that sound? At the end, we'll recommend you a trusted casino to play at so that your efforts don't fall on stony ground. We'll pretty much guide you all the way to your seat, so let's get started. Coming next is a complete overview providing answers to all enquiries you might have about the game details. You can also check which are the top choices for UK blackjack sites.
Player's Suite Blackjack Rules and Features
Player's Suite Blackjack Rules
RTP:
99.6%
Blackjack Pays:
3:2
Number of Decks:
6
Dealer Rule:
Stand on all 17s
Dealer Peek:

No

Insurance:

Yes

Surrender:

No

Split:

Yes

Re-split:

Yes

Double:

Yes

Double After Split:

Yes

Hit Split Aces:
Just once
Side Bets:

No

Multihand:

No
This is the moment to mention that all previous blackjack experience will be of help because Player's Suite blackjack's rules are derivative of the classic version. We are looking at a standard setup where six decks are used. Players are dealt two cards face up the value of which is summed, while, across the table, the dealer is also dealt two cards but one of them is face-down. Both Players and dealer are making an effort to build a hand that has a value as close as 21 points as possible without overtopping.
As for card values, they are the same as with the other popular blackjack variations. Face cards count for 10, ace is 11, and the cards from 2 to 10 are taken at face value. Scoring higher than 21 results in a bust and a losing bet. So far there's nothing too out of the ordinary, right? What makes Player's Suite Blackjack different is the dealer's behaviour. The dealer is obliged to draw on 16 and stand on all 17s. In addition, the rules allow only one re-split. After splitting, the bet is doubled and one additional card is drawn. Blackjack pays 3 to 2. Beating the dealer in any other way pays 1 to 1. Insurance against blackjack pays 2 to 1, which essentially means that you'll get back 2 pounds for every one pound bet. There are no side bets, just straight up win wagers. This keeps the setting of the green felt clean and easy to navigate because all you have to do is place the chips in the middle of the table and hit 'Deal'
The ruleset is fairly favourable, giving the game solid payout potential and good odds to make the most out of your deposit at the casino. Of course, if you are eager to try your hand at the table, you should still make sure you are well-prepared when it comes to strategy, as this is the only way to reach the enormous RTP levels for which blackjack games are famous.
Play Player's Suite Blackjack with A Strategy
Blackjack, statistics, and luck are invariably intertwined in a convoluted way, that's unperceivable for most novice players. That's why our review will be considered incomplete without presenting you with a strategy that draws on the expertise of blackjack experts wise to the ins and outs of the game. Player's Suite Blackjack's RTP is estimated at approximately 99.6% – a very impressive number, telling of fairness in the approach IGT has adopted for this title. What this means is that you stand a good chance to win by employing a strategy that follows the principles of probability theory. The one we've featured is compliant with the rules of this specific blackjack variation, therefore ensuring you the best tactical advantage you can possibly get in any in-game situation, irrespective of the circumstances.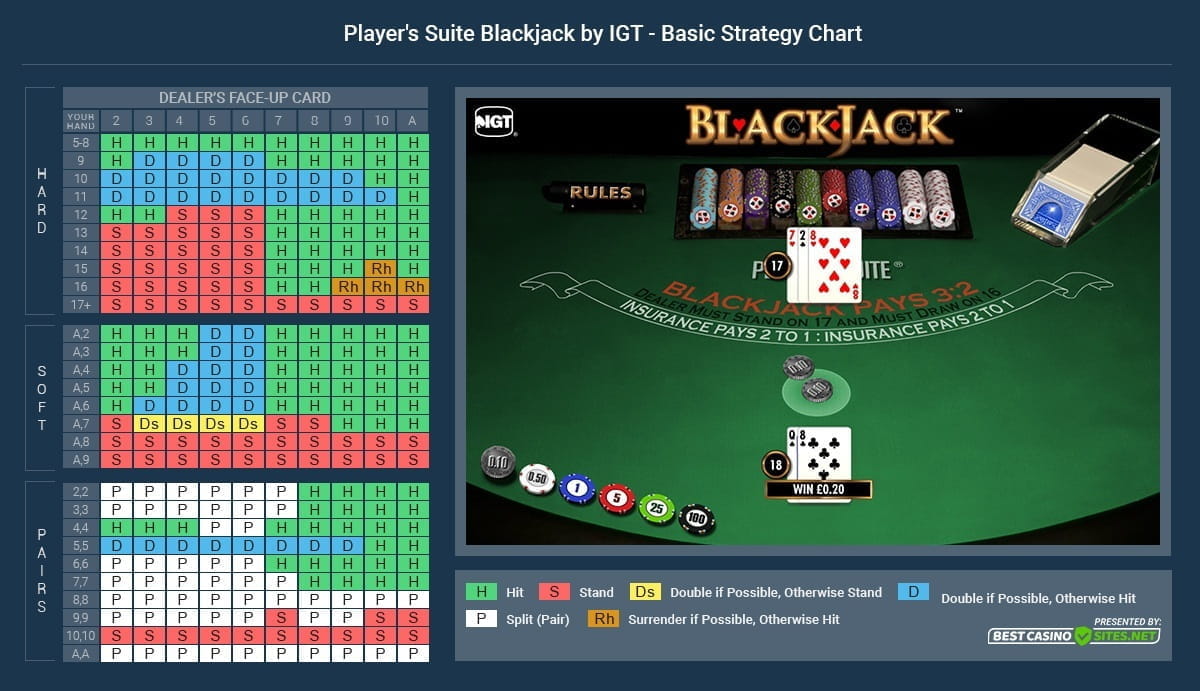 Incorporating this strategy in your routine will put each decision you take into the perspective of a sensible bettor, but as you can imagine, the house will still have the upper hand. The last step you can take in minimizing the house edge is to claim a new player bonus. We want to point your attention to an operator we've been following closely and have written an in-depth review about – Grosvenor. Grosvenor is a solid casino with an easy to claim £20 welcome bonus and lenient wagering requirements. Not to mention the eclectic table games selection, which will be at your disposal at all times.
Player's Suite Blackjack Demo Game
In order to make sure an RNG game is gimmick-free you have to test it meticulously. That's about the only way to gain first-hand insight. Although we've already done the heavy lifting for you and tested the legitimacy of the game and developer, it would be best if you put the strategy we've just discussed to work right away. The implication of that is you gain experience playing the game and see if it's a good fit for your style before investing. We've got everything needed to tool you up. The demo version featured in this paragraph is the perfect training ground for players who want to see what the game is about, so the only question is what are you still waiting for? Hit that 'Play' button.
Playing the demo game first before the real deal can help you in many ways. Maybe the easiest to grasp reason is the fact that it won't cost you anything. In doing so, not only will you get a feel for how things work in the game but also will see if there's a technicality cramping your style of play. We are pretty sure it should be smooth sailing with this one, but hey, seeing is believing. So, if everything goes as planned, you'll be able to practice your game plan trouble-free and gain more and more confidence with each hand.
Top Casino Choice and Noteworthy Blackjack Alternatives
As we've seen from this Player's Suite Blackjack review, the game developed by IGT is a fully-fledged variation of the classic loved by many. It stands out with top-shelf graphics and intuitive interface that makes playing an enjoyable experience. There's only one thing we think could've been done better.
The game does not support multi-hand play. For that reason, we recommend you check out this European Blackjack Turbo review as there we point out the advantages that come with the multi-hand availability of this variation. Even so, with the pace Player's Suite Blackjack is being updated, it won't be a surprise if the multi-hand feature gets added in the near future.
Rating:

4.9/5

Powered by:

NetEnt

Play at:

LeoVegas Casino
Rating:

4.8/5

Powered by:

Felt Gaming

Play at:

LeoVegas Casino
Rating:

4.88/5

Powered by:

Playtech

Play at:

Ladbrokes
There's nothing bad in trusting your gut, and if you made it thus far in our Player's Suite Blackjack review that's most likely what you intend on doing. That's perfectly fine, you've made a good job choosing a good casino game for UK players but in gambling oftentimes playing is a matter of 'where' not 'what'. Since not all online casinos were made equal, we have selected a top-of-the-line gambling venue to complement your choice of game. So, as a final piece of advice we can give you – the best venue to play Player's Suite Blackjack in our opinion is Grosvenor. We can cite many reasons for this choice right here on the spot, but you better see it all laid out at length in our dedicated Grosvenor casino review. If you want to try other games, we have a great suggestion for you – why don't you try live dealer baccarat online?